Chutney is a type of sauce that typically has fruits and spices in it. It is frequently used in Middle Eastern, Indian, and Pakistani cuisine and can be made sweet or spicy, utilising various fruit and spice combinations. During the colonial era, the British developed a liking for the sweet and sour mango chutney, and today they serve it as a standard accompaniment to beef in the UK. Long story short, when you develop a taste for chutney, you will need it with every food.
It is always in the plate's margins. Just a tiny bit will add flavour to a bland meal. But despite its wide range of ingredients and explosion of flavours, it continues to be the flavour that unites our diverse eating habits. Chutneys in Perth are intended to be consumed in small amounts throughout meals. It is designed such that you should lick it rather than masticate it.
Merely a complement in most meals, chutney was first created to make use of leftover foods, savour seasonal ingredients, and create something flavorful from inexpensive resources. To make an ingredient more palatable, it is frequently made into a chutney.
Almost any combination of fruits, vegetables, herbs, and spices can be used to make chutneys. Chutneys are typically divided into sweet and spicy varieties; while both types contain chilli, their primary flavours vary.
Regardless of the region of the world, chutney is a fantastic way to improve a dish. It works well as a side or a dip. Because everyone likes a little bit "on the side," they can always find it in the comfort of chutney. The different chutneys could be seen as a metaphor for the melting pot of variety.
Chutneys range
Chilli and Lime
Green Chilli Jam
Mango Chutney
Mango Lime Chutney
Tamarind Chutney
The tandoori Paste Perth, WA, is very well-liked. Tandoori paste is a well-liked marinade in Pakistan, India, and Australia. The significant spices in this dish remain consistent from one recipe to another; however other ingredients may vary somewhat.
Although Tandoori Paste in Perth, WA, is most frequently used in chicken meals, it also makes the ideal marinade for dishes with vegetables. Vegans can marinate tofu before grilling it, while vegetarians can use it to coat halloumi before crisping it on the BBQ. Additionally, you may use it to marinate onion wedges before grilling them.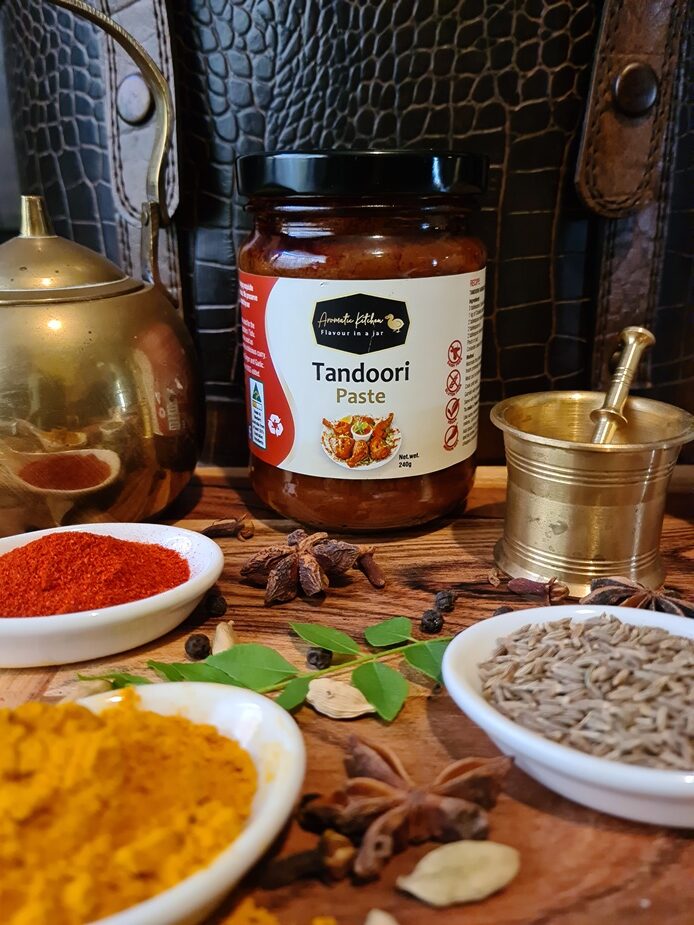 Tandoori paste range
Butter Chicken Paste
Green Curry Paste
Red Curry Paste
Tandoori Paste
Turmeric Curry Paste
Vindaye Pickle Paste

Contact Aromatic kitchen for Chutneys in Perth with no preservatives, artificial flavours and colours. Call us at 0449 945 845 or email us to learn more about vegan chutneys and tandoori paste.